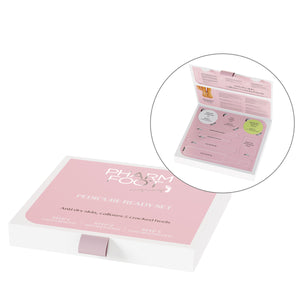 Pharm Foot
Pedicure Ready Set - Pharm Foot
Regular price
£28.99
£0.00
Unit price
per
Tax included.
Shipping
calculated at checkout.
PEDICURE READY SET
Anti dry skin, calluses & cracked heels
THE PRODUCT SET IS SUFFICIENT FOR 10 PEDICURE TREATMENTS AND INCLUDES:
• KERATOSIS exTERMINATOR Express deep softening and keratin removal gel 75 ml.
Gel for removing skin calluses and softening cuticles around nails. Stimulates regeneration, smooths and makes the skin more flexible and less prone to cracking.
PRECAUTIONS - Contains alkali. Avoid contact with the eyes. May cause loss of vision. Keep out of reach of children.
• FOOT SCRAPER Smoothing salt and sugar foot scrub with oil complex and shea butter 75 ml.                   
A scrub for feet and manual massage. Especially recommended for dry skin. Has an exfoliating, softening and smoothing effect. Regenerates and intensively moisturizes dry skin.
• CRACKED HEEL PROTECTOR Protective ointment for cracked heels with ozonated oil 75 ml.
Ointment for intensive regeneration of dry, rough and cracked foot skin. Moisturizes, soothes and supports the epidermis repair processes. Makes the skin regain its softness and smoothness. Provides anti-microbial protection.
• WOODEN SPATULAS 3 pcs.
For taking cosmetic products from the packaging and applying to the skin.
• WOODEN STICKS 5 pcs.
For pushing back the cuticles around the nails.
• NAIL FILE, 180/240
For preparation of the nail plate.
• FOOT FILE, 100/150
For removing calluses.
• SINGLE USE PLASTIC SOCKS 10 pairs
For protecting the skin after applying the softening gel and for accelerating the product.
---
Share this Product
---